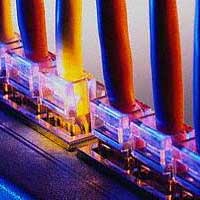 The module provides online charging function for fixed line and mobile communication services. Online charging function setup real-time credit control & balance management before session/event starts and during the session. The module provides Service Control Function in view of Intelligent Network concept.
Hardware level is represented by special blocks installed in x86-compatible PC and connected to switch by E1/T1 interfaces. The module supports ISUP, SCCP, MAP, TCAP SS7 protocols. Switch must have the following features for integration:
for fixed line networks - INAP (Intellegent Network Application Protocol)
for mobile networks - CAMEL (Customised Applications for Mobile network Enhanced Logic).
The module supports CAMEL Phase 2+ to provide online charging function for outgoing roamers (it is neccesary to support CAMEL 2+ or higher for visited switches).
Basic features of session-level charging by duration:
Get request from switch (Service Switching Function) for service initiation;
Preliminary rating of service;
Unit reservation on balance;
Calculates of maximum session duration;
Allow/cancel of session with maximum duration;
Get message about session finish from the switch;
Final rating of service and unit debeting;
Free of reserved units when session is not started.
Basic features of event-level charging:
Get request from switch (Service Switching Function) for service initiation;
Preliminary rating of service;
Direct debiting of balance;
Allow/cancel of service;