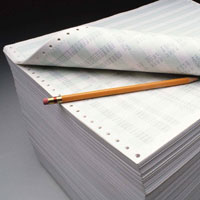 The module supports report forms designing, data filling of these forms, printing and exporting in different formats.
Our billing solution experience says that a lot of our customers requests are devoted to reporting and often to report design (add/delete/move some fields etc.) That is why we develop Report Generation Module, which allows to design reports by user. We use Fast Report enviroment for this purpose.
Features:
Editing and creation of new reports;
Generation of reports under the schedule;
Support of parameters of the report ;
Set of access rights to reports;
Support of reports on several databases;
Viewing of turn of performance of reports;
Viewing and a seal of the generated reports;
Export in HTML, PDF, JPEG, XLS;
Standard reports:
bill;
bill details;
calls details;
unbilled calls;
billing summary;
personal account state;
services details;
pay reminders.
Bills generation.
When operator get a lot of post-paid subscribers, it is not comfortable to generate and print bills using standard reporting procedure. To solve this problem the system supports XML data bills generation for exporting to special print shops.