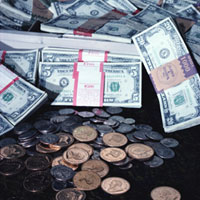 The module is intended for mass data input about receipts of money and the data on rates of the registered currencies. Solution is integrated with CRM module to provide GUI interface for manual inputing of payments. Remote cash-desk interface is supported. The system is multi-currency solution. All registered currency payments may be received. Payment converts to main currency according to rate of reception data and than stores in data base.
Features:

The advanced search in number of the contract, on names of the client, name of the contact person or the subscriber, phone number of the subscriber, mobile number of the subscriber, the account;
Data input about payments with the indication of the payer, date of receipt of payment, a method of payment, currency, the sum of payment, date of converting;
Confirmation or removal/change of the data on the entered payments;
Conducting the exchange rates, registered in system.
Remote cash desk features:

Cash desk provisioning from the interface of the program;
An automatic print of receipt;
Automatic addition of payments to the client;
Allocation of the sum of the VAT.
Integration with vouchers module
Payment is attached to customer account in accordance with vouchers value.
Integration with external payment systems
The module may be integrated with all kinds of external payment collectors. The example is the solution for Mobile Telesystems OJSV, which was integrated with MTS Global Payments Collection System and allows to get payments or to activate voucher worldwide.